SOLO administrators, i.e. those who have connected to the device using the PIN code, can share an access with a user in two ways:
Sharing the PIN code
By creating a Share
1. Sharing the PIN code
In the case of friends and family, you can share with them the PIN code of the device that you set during the configuration phase.
In this way they will be able to have unlimited access to the openings without time constraints, becoming administrators themselves.
This guarantees complete control of the device and shares (Warning: even with the possibility of revoking the permissions of the original administrator).
2. Creating a Share
Shares can only be created by administrator users of the SOLO device and allow to set time or access constraints. To create a share it is not necessary to be near the device, this can also be set remotely.
To create a share, open the main menu of the app by clicking on the gear icon at the top left and select the item "Shares". Choose your device from the list and click on the "Create new share" button.
On the next screen you can choose a contact from your address book or, by clicking on the pencil icon at the top right, manually enter a phone number.
Continuing to the next step you can choose which accesses to enable, the period of validity of the sharing, the days of the week and the time slots. You can also enable or disable the user for remote opening*.
By clicking on the "Create share" confirmation button, the user will receive the sharing and will be enabled to open accesses with the limits set by the administrator.
For security reasons, at the first attempt of use an association procedure will be made between the new user and the SOLO, subsequently he will be able to use the sharing regularly.
Device administrators can at any time review and revoke every single share created.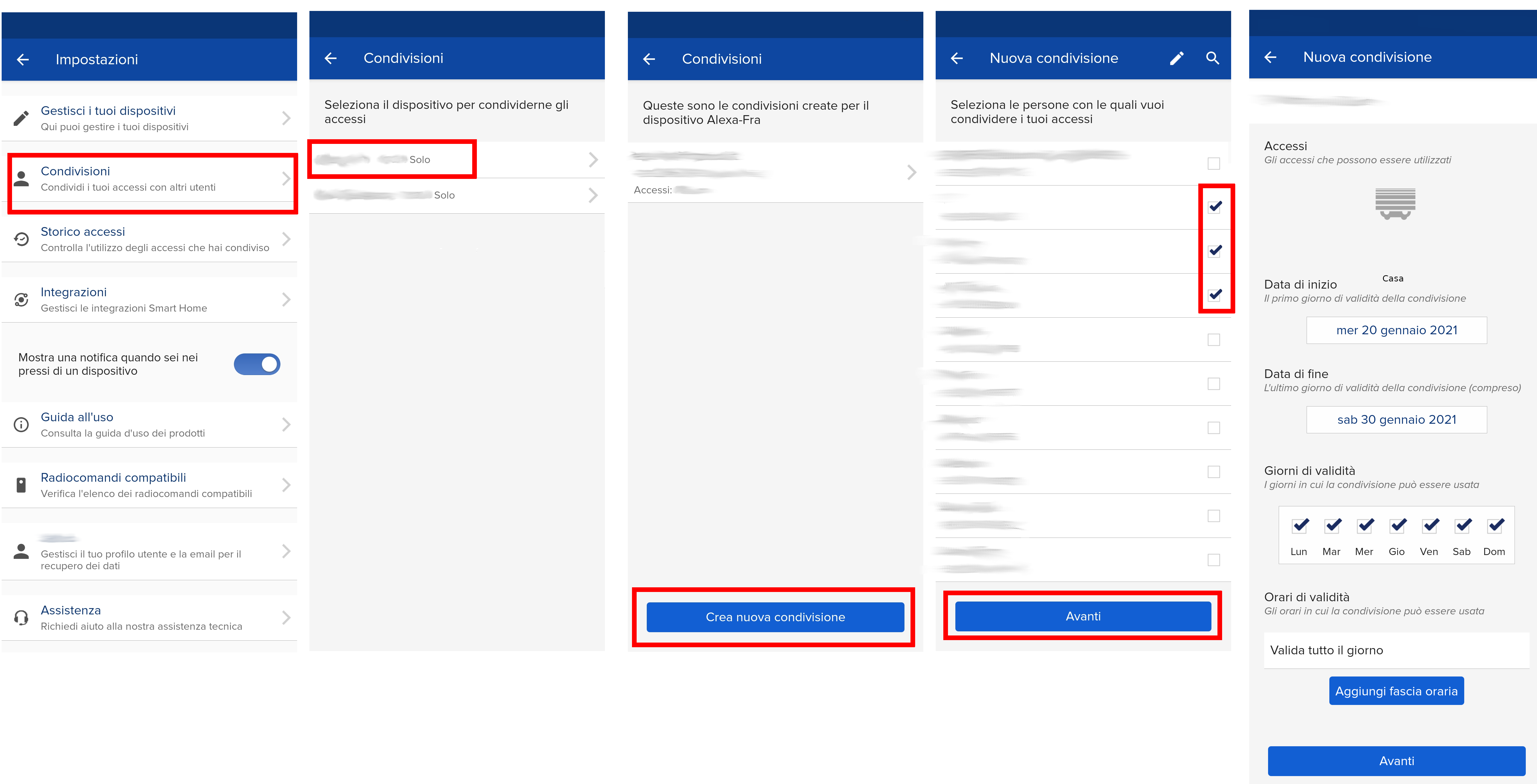 * For remote opening it is necessary to have installed the Wi-Fi LINK accessory, for further information visit the dedicated page: https://www.1control.it/en/link.php